Oil Absorbents
Get the products you need for the fast, easy removal of oil and grease from floors, surfaces, and heavy equipment. Perfect for preventing fires and slipping accidents. We carry both traditional clay absorbents and a variety of alternative absorbent products made from peat moss, recycled paper, corncob, and more. Now available in durable, water resistant bags!
Georgia All-Purpose Absorbent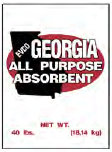 Georgia All Purpose is a stable product that does not tend to pick up moisture from the air. It is chemically inert, non-flammable, non-toxic and safe to handle and use.
Georgia All Purpose absorbent can be used on industrial and automotive service station floors.
Available in 40# bags, 60 bags/pallet
---
Evco Industrial Flor-Dri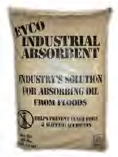 Prevents flash fires caused by oil spills.
Prevents slipping accidents on oily floors.
Provides a simple, easy means or removing oil from floors.
Avoids caking.
Durable poly bag helps protect product and sheds water.
Extra strength of plastic bag provides longer lasting outside storage.
Available in 40# bags, 60 bags/pallet
---
Leak & Spill Thrifty Absorbent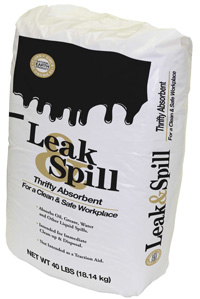 For a clean and safe workplace!
Part # LS40
Effectively absorb, clean-up and dispose of:
Oil
Grease
Water
Other liquid spills
*Not intended as a traction aid
Available in 40# bags, 50 bags/pallet
---
Eagle Picher

Eagle Picher is easy to apply and economical, since it can be spread by hand or scoop.
It absorbs floor spills immediately and its structure allows it to absorb two to three times more liquid compared to an equal weight of most granular competitive products.
Available in 25# bags, 70 bags/pallet
---
Zorball
Available in 50# bags, 40 bags/pallet
---
Gran-sorb Absorbent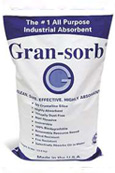 Loose Gran-Sorb
Recycled Gran-Sorb Loose Cellulose Absorbent soaks up oils, coolants, solvents, water, fuels and antifreeze.
This environmentally friendly, universal absorbent is made of 100% recycled post-consumer paper waste and absorbs its own weight in liquid!
Available in 30# bags, 65 bags/pallet
---